Passwordless authentication
Passwordless authentication replaces the password with more secure and user-friendly options for both your employees and customers.
Is your company worried about phishing attacks? Is your login process not very user-friendly? Then you should consider switching to passwordless authentication. It provides both a seamless experience and better security for both your employees and customers.
As we use more digital services, the number of passwords we need to remember and keep track of increases. To make it easier, many people choose to use the same password for different services or choose an easy password. This makes passwords vulnerable.
Complicated passwords increase the cost of user support
Many companies have decided that their employees must use passwords that are unique and increasingly complicated. However, these requirements make it difficult to remember passwords, which often results in locked accounts and password reset requests.
Passwordless authentication is faster and more secure
But what if you could get rid of passwords by using factors other than passwords? For example, face recognition, authentication apps or fingerprints?
With passwordless authentication, the employee can easily log in without having to remember a single password, which makes the login process faster and more secure.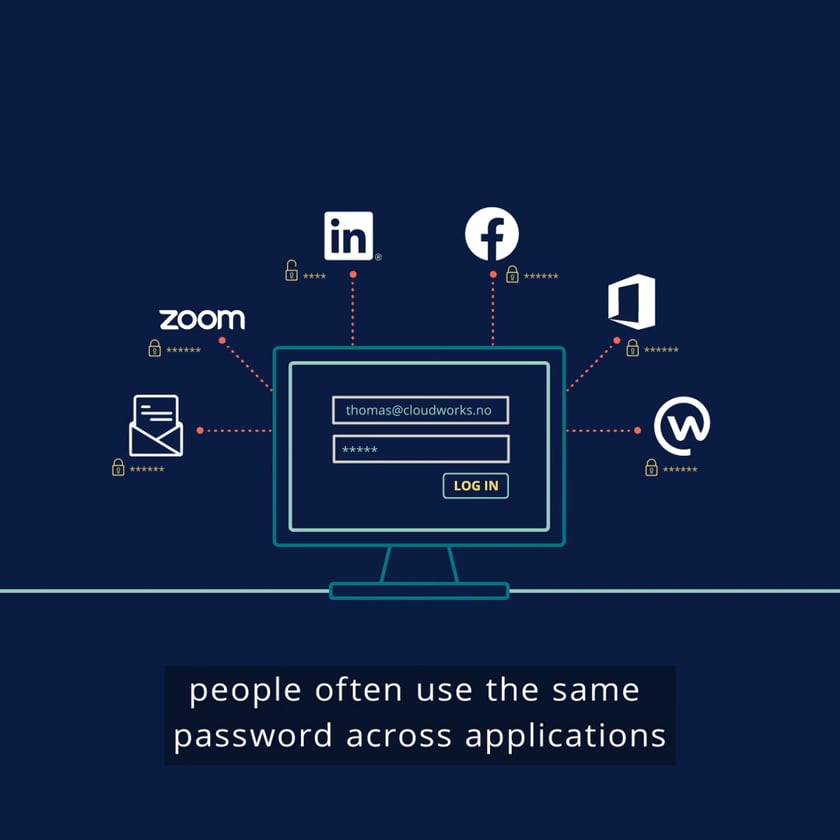 5 benefits of passwordless authentication
Traditional authentication with username and password has been the basis of security for over 50 years. However, in light of today's IT landscape, threats and usage patterns, the time has come to retire the password. We will take a closer look at how this can be done and the benefits of passwordless authentication.
Read more here about 5 benefits of passwordless authentication
Webinar on-demand:




Secure and user-friendly login without password



Free webinar - watch it now!
We invited Max Faun, Head of Okta EMEA Consulting, to discuss login processes without the use of passwords with Arne Vedø-Hansen, IAM architect at Cloudworks.
In the webinar you will learn more about:
The risks and the real costs of passwords in various use cases including mobile phone use and CIAM
Overview of seamless and secure authentication streams
Advantages and disadvantages of alternative factors such as biometrics, OTP, etc. for different scenarios within IAM and CIAM
How to organize the necessary infrastructure
Get in touch to talk more about the possibilities around passwordless authentication for your company!